#84 Chilling Skellies
February 2, 2018
Transcript
We were lost. Our tummies were full, but with our unreliant guides fueling the flames, we had no one to direct us. Things would surely keep getting worse.

Clacky? What? Go where? Huh. Okay.
Big Sister says:
I ran out of floor for shelves, so I've been webbing the rest of my comics to the ceiling.

But now that place is full too…

I should probably start getting rid of everything here that's not serving as a comic keeping place. The owls haven't been back for a long time. Maybe they decided to move out?

Anyway, borrow some more comics, will you:



Demon Archives by Dan Sharp – As Captain of the Keleres, Tenzin Dorje led his team to defend the people of Minerva from raiders and rival factions. But when a new enemy destroys the Keleres and seriously wounds Tenzin, he'll have to face his personal demons to restore peace to the region.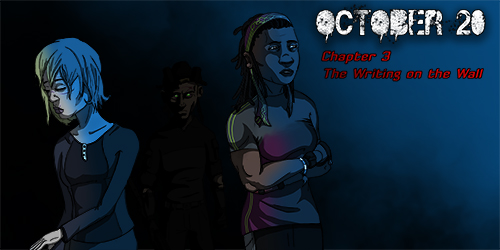 October 20 by Marius Hjelseth – For 12 years, Catherine has suffered agony, isolation, loss and betrayal. Now, she faces her most formidable monster. Her own guilt. Get ready for the final chapter of October 20, as Catherine returns to where all her grief began. Along for the ride are a few surprise allies. And enemies.



Arbalest by L. Potyondy-Edens – A reluctant monster with six months to live learns to transcend her role in an isolated, fearful village.